Perform Better: High Potential Meets High Performance
8billionideas partners with the Apex2100 International Ski Academy, one of the world's leading ski academy for young skiers, to bring Performance to every student.
We're proud to announce our strategic collaboration with the team behind Apex2100, a pioneering ski academy in Tignes, France, led by the world-renowned Sir Clive Woodward as Director of Sport. Our teams will join forces to create new programmes for the most aspirational students around the world, no matter their goals. This partnership will allow future sports stars, aspiring entrepreneurs, the next generation of academics or even the stars of the stage to learn from the best.
The Apex2100 International Ski Academy has been created to become the world's leading ski academy for young skiers. Based in Tignes, France at 2100m, Apex provides talented skiers with world-class Learn, Train and Perform programmes designed to develop future champions. Teaching IGCSE, International Baccalaureate, CNED & USPA programmes, Apex's students also gain a high quality education in addition to their training.
Apex's Director of Sport is Sir Clive Woodward, a leader and pioneer in coaching high performing teams and individuals. Sir Clive led the World Cup Winning England Rugby Team in 2003, and as Team GB's Director of Sport, he worked in close partnership with key stakeholders in British Sport to support the national coaches and athletes at the Beijing & Vancouver Olympics as well as deliver Team GB's most successful Olympic Games in the modern era at London 2012. He brings all that experience to Apex and our partnership.
In this unique learning environment the academy has developed an innovative approach to the holistic development of their athletes. Known as 'Perform Better', the programme's aim is to provide a foundation for performance, whether that be in the classroom or on the slopes. Covering areas from nutrition to digital wellness, sleep and brain fitness, the programme is recognised for supporting students in all areas of their life.
What does this mean for the Education world?
8billionideas' partnership with Apex will drive this programme to students all across the world, in every learning environment. Working with Apex's team of experts, the 8billionideas Product team will co-develop programmes so that students in schools, colleges, and academies can also have access to Perform Better. Performance is defined as delivery on demand, and together 8billionideas and Apex2100 will bring that ability to as many students as possible.
Commenting on the partnership Sir Clive Woodward, Apex 2100 Director of Sport said:
'Perform Better is for the most aspirational students across the world. The lessons over many years have helped elite performers on the field reach their potential. I'm really looking forward to this collaboration with 8billionideas to bring this to students around the world, no matter their goals. In my career, I've learned that these critical areas allow an individual to perform to their best. With 8billionideas we will spread that learning now to all parts of the globe.' Sir Clive Woodward, Director of Sport, Apex2100
David Harkin, 8billionideas CEO added:
'For 8billionideas, this is a dream collaboration as it will be enhancing our offerings to schools and students from every part of the globe. We know Perform Better will appeal to the most aspirational students across the world - that's who this programme will be designed for. We can't wait to combine the learnings of 8billionideas, Apex2100 and Sir Clive to create one of the most profound educational opportunities for young people.' David Harkin, CEO 8billionideas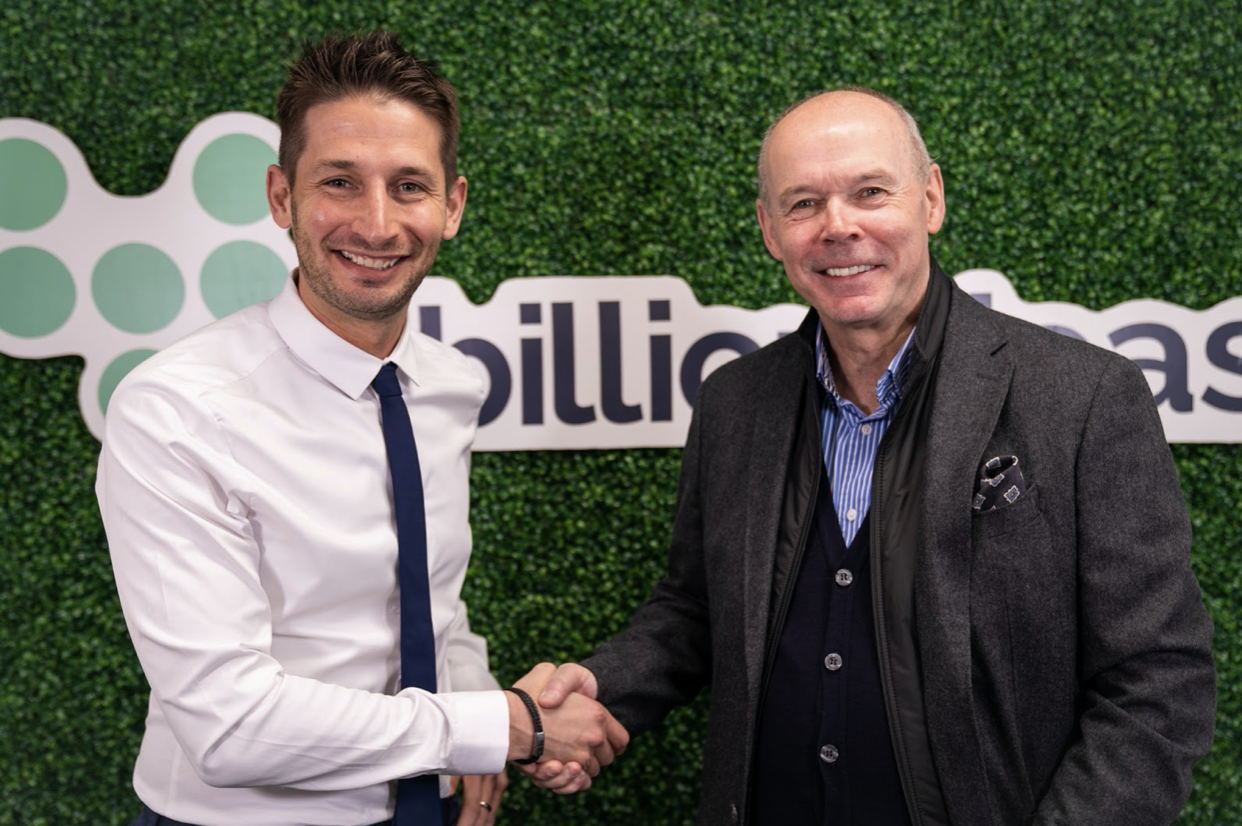 David Harkin and Sir Clive Woodward
Interested? Watch this space! We will be launching a Summer Programme for Schools to share with their parent communities in May 2022. Aimed at the most ambitious and aspirational students, the 8billionideas Perform Better Programme will bring performance into homes this summer. Throughout July - August 2022 there will be 4-day summer programmes for students to join from across the world. On request, 8billionideas will also be delivering versions of the programme to schools who wish to run it during their summer term within their timetable.
Are you a school and interesting in bringing Perform Better to your community or School? Get in touch by making an enquiry.